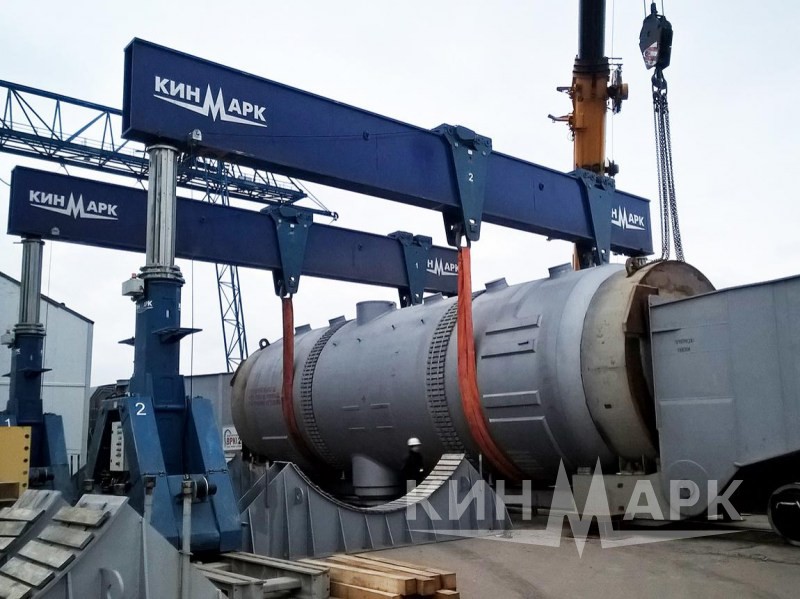 Year of implementation
2018
The set of steam generators (PGV-1000) for the Belorusian Nuclear Power Plant was delivered to Velikiy Novgorod by water. The heat exchange equipment was loaded on the specialized jointed railway conveyor and was sent to Belarus by rail.

The assembled set of four steam generators was manufactured for the power unit No.2 of the Belorusian Nuclear Power Plant by AEM -Teсhnology, Volgodonsk, in April, 2017.

Dispatching of the items, which began in June, was a complex logistics task. It took 4 days to deliver the steam generators from Atommash plant to the special mooring on the Tsimlyansk reservoir. Special transport was used, the road train moved only in nighttime. It took more than 20 days to deliver the cargo on the barge train to Velikiy Novgorod.
The specialists of Keen-Mark carried out loading of the items on the railway conveyor and the cargo was sent to the itstallation site. On arrival of the cargo at the destination it was unloaded from the conveyor to the motor vehicle for transportation to the assembly site.

In order to deliver four steam generators to the site the railway conveyor as well as the gantry system Enerpac SBL 1100 had to repeat its way from Velikiy Novgorod to Belarus and back twice due to the fact that only two steam generators could be transported by one railway train.

The steam generators are classified as first hazard class products. Dimensions: diameter – more than 4 meters, length – 15 meters, weight – 340 tons. The steam generator vessel is a horizontal cylindrical vessel with two elliptic bottoms, with collectors for coolant inlet and outlet being located in the middle of it. One power unit is equipped with four steam generators.