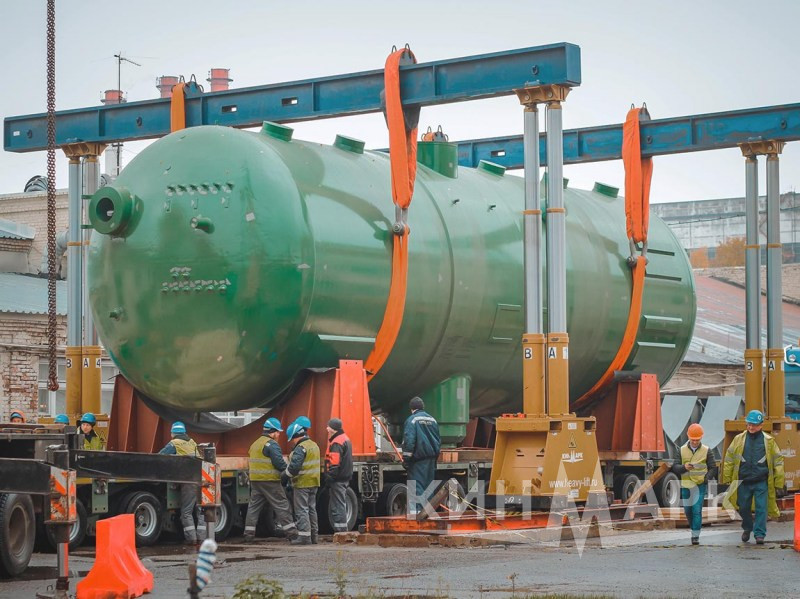 Year of implementation
2017
Type of work
Transportation
Delivery of two steam generators to NPP "BELENE" in Bulgaria.

In the fall of 2017 a unique logistic project for ZiO-Podolsk was implemented. Two steam generators were delivered to a port by motor transport. For the first time in the history of PJSC ZiO-Podolsk such an oversized equipment was delivered not by rail on the jointed conveyors, but by road with the use of a specialized road train. It was caused by lack of the necessary railway rolling stock for the mentioned period of time. Only specialized transport and unique rigging equipment of Keen-Mark company made this transport operation come true.

First the steam generators were loaded on the modular automobile trailer and moved to the loading
site located on the territory of the plant. It was not possible to move with such a height of the road train, so the steam generators were unloaded on the specialized unique trailer with a total length more than 100 meters.
Road train parameters: length – 101,5m, width – 6,85m, height – 5,2m, total weight of the road train with the wight of the steamgenerators road train – 698 ton.
When the automobile route was over, the steam generators arrived at the specialized mooring in Bronnitsy and it was successfully loaded on the vessel.