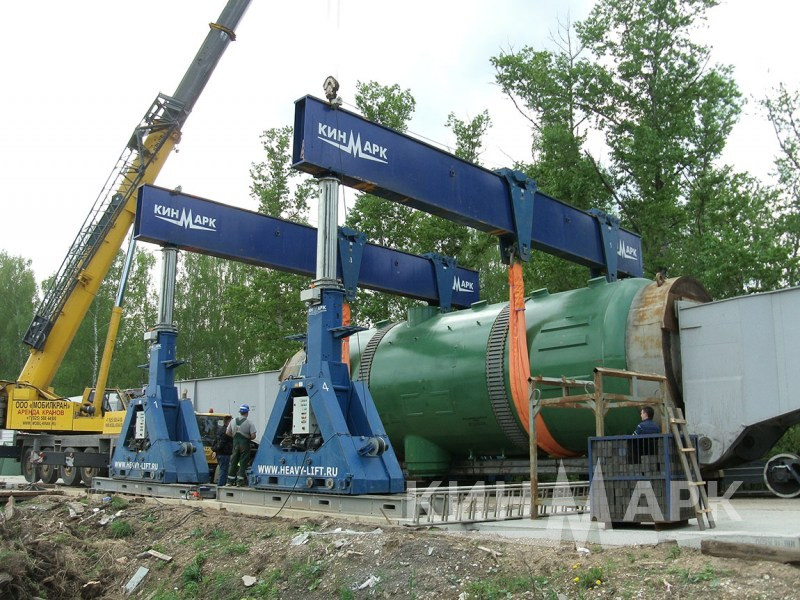 Year of implementation
2018
Type of work
Transportation
In 2018 specialists of the Keen-Mark company participated in the project on delivery of two sets of steam generators to the NPP Belene in Bulgaria.

The project included a full complex of services on delivery of the heavy and bulky cargo, different types of transport were used in order to deliver the cargo from the shop of manufacturer to the building site of the NPP. At the initial stage of transportation 2 railway jointed type conveyors TSCh500L with the loading capacity of 500 tons each and unique transport equipment were used.
Both conveyors were sent from the territory of ZiO-Podolsk as a part of one train. The cargo was delivered to the railway station Serpukhov.
At the station Serpukhov the steam generators were loaded on specialized motor transport by means of the hydraulic gantry system ENERPAC SBL 1100 (loading capacity 1100 tons), specialized motor transport used: ballast tractors and 18 axis modular trailer. Then the cargo was delivered to the temporary mooring on the river Oka. The cargo was loaded on speсially equipped barge by RO-RO method (rolling-on method) and then sent to Volgodonsk.

The closing stage of the project included the overloading of the steam generators on the river-sea vessel and then direct delivery to the NPP "Belene". The transportation took 56 days.