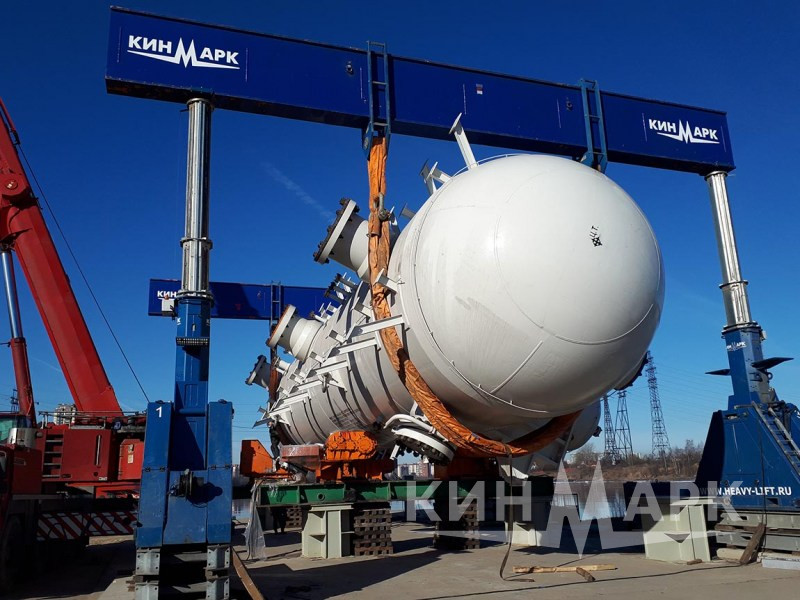 Year of implementation
2019
Type of work
Transportation
Keen-Mark company carried out delivery of separators for the Gas Booster Station of the onshore processing facility of the Sakhalin-2 Project.
The equipment was manufactured in St.Petersburg for installation at the booster gas station located in the north of Sakhalin Island. The diameter of the equipment exceeded 4.5 meters, the length of the cargo was 26.5 meters. These separators are to withstand a pressure up to 100 bar. The weight of the main body of each separator was about 560 tons.
The separators were manufactured by Izhorskiye Zavody in 2018. With the help of Keen-Mark company the separators were moved to a temporary storage site, where they waited for transportation to the customer. After the acceptance-delivery procedures of the equipment, a problem of transportatation of an oversized cargo by public roads to the pier on the Neva River arose.

There was a railway crossing on the route, the height of the cargo did not allow us to cross it due to power lines. The specialists of our company proposed to carry out a double 90 degree turning of the separators, this operation would reduce the height of the cargo significantly. The separators were moved back to the workshop, where they were rotated by means of roller rotators, then they were reloaded onto modular road trains.
After the cargo arrived at the berth it was necessary to carry out the reverse turning operation. For this purpose, Enerpac SBL1100 hydraulic gantry system and roller rotators were used. The operation was complicated by the fact that it was necessary to carry out the work as soon as possible and with the observance of all precautions in order not to damage the internal equipment.

In the final phase of the operation, another oversized cargo was loaded onto self-propelled modules and the separators were loaded onto a barge by RO-RO method and sent to the Customer.

Loading machines, oil and gas, industrial and other equipment - the main activity of the company "Techno-Mark". Do you have similar requests? Call us!