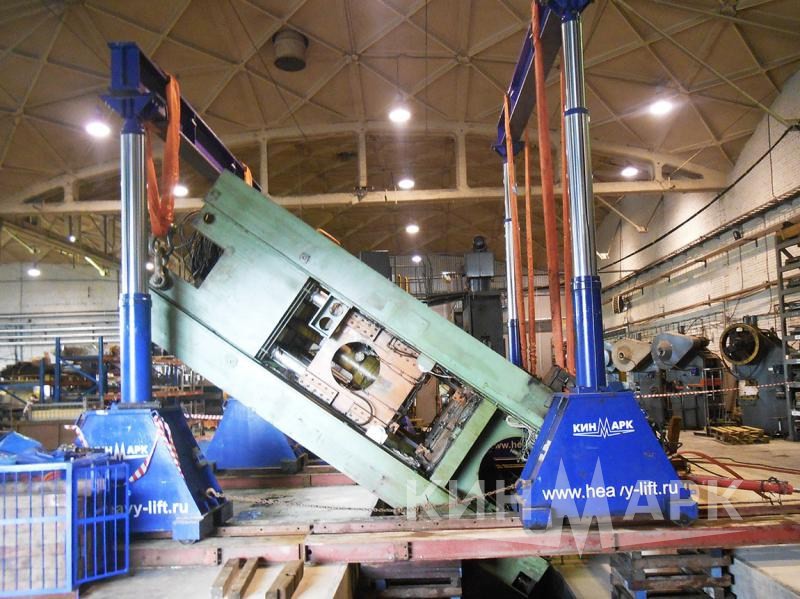 Year of implementation
2016
Weight of cargo
70 т. и 100 т.
Type of work
Transportation
Dismantling, movement and installation of three presses for LITOSTROJ


In 2016 specialists of Keen Mark company accomplished the project on relocation of the presses with the weight of 72, 72 and 104 tons. The presses were relocated from one plant to another. We completed the following tasks during the project;

1. Press dismantling
2. Loading of the press on the motor vehicles
3. Transportation and unloading in the temporary storage zone
4. Loading of the presses on self propelled modular trailers and moving them into the shop
5. Setting of the presses on the project places
On the first stage of the project all the presses were switched off and prepared for dismantling process. By means of the hydraulic system Lift System 44 the presses were dismantled. It allowed to carry out turning and dismantling of the presses without truck cranes of high loading capacity being used ( the use of the cranes would cause roof dismantling).

After turning of the presses they were moved to a loading zone and were loaded on Keen Mark specialized motor vehicle, then they were transported to another construction site. The transportation was carried out with strict observance of all the established rules and with special permission being obtained.

Due to non readiness of the installation site a temporary storage zone was organized, the presses were unloaded and set there by means of the hydraulic gantry system. When the installation pits were prepared our specialists carried out loading of the presses on self-propelled modular trailers and moved the presses to the installation zone. Self propelled modular trailers were used for dismantling and moving of the presses due to the fact that the geometry of the working shop did not allow us to use conventional trailers as the space conditions were limited.

It should be noted that all the works on dismantling and installing of the presses were carried out without the production process of the manufacturer being stopped, in accordance with
the work schedule agreed with the Customer. Each stage of dismantling and installing of the presses took only two days for each press, so the working processes of the manufacturer were not sopped.

Keen Mark Company has considerable experience in dismantling and installation of the presses of different weight (up to 340 tons) throughout Russia and abroad. You can read more on our projects of installation of the presses here.